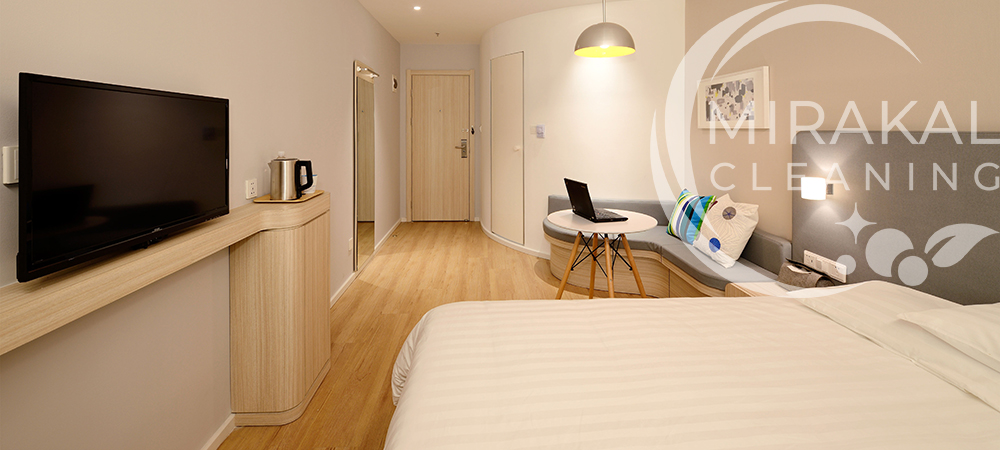 MiraKal Services provides contract housekeeping for serviced apartments in Guildford, Woking, Farnborough and the surrounding area.
The service is ideal both for owners and managers of serviced apartment buildings, as well as for private owners letting an individual apartment through Airbnb.
Between-booking housekeeping services
Our between booking housekeeping services include thorough post-occupancy cleaning of your apartment at the end of each booking, followed by re-priming of the apartment to the level you have specified for the commencement of the next booking.
The clean includes removal and disposal of all non-inventory items from the apartment, as well as disposal of left behind foodstuffs from the fridge and cupboards, toiletries from the bathrooms, and the removal for laundering of all used bedding, towels and household linens.
The re-priming involves deployment of clean linens throughout, supply of fresh fridge and cupboard provisions and new toiletries to the bathrooms as specified, and provision of other agreed perishables such as fresh flowers.
We will also check all light bulbs and replace any that require this.
In-occupancy housekeeping services
This is our full housekeeping service, which we provide for owners and managing agents across our service area covering Woking, Godalming and Guildford.
As per your requirements, and those of your occupants, our housekeepers will attend the apartment on a weekly, twice-weekly or daily basis, cleaning throughout on each visit, removing refuse and recycling, and removing towels and bed linen for laundering and replacing these with fresh items.
In addition, we will then carry out all further tasks that have been specified. These may include laundering of clothes, ironing, shopping for provisions, changing flowers etc.
Our aim is to provide your occupants with hotel standard housekeeping during their stay in your serviced apartment, keeping the provision of our service competitive on price at all times.